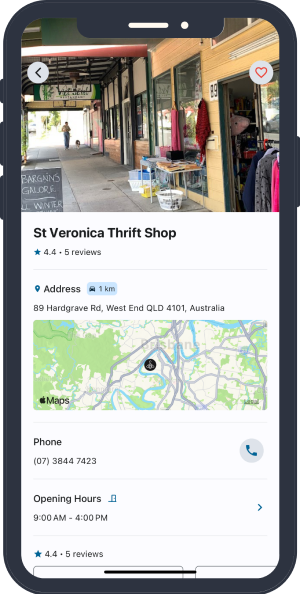 About Our App
Oppyfinder's mission is to help increase visibility to the vast variety of charitable stores across Australia, while providing a presence to the less known, independent secondhand stores that often go unnoticed. We also want to provide users with an intuitive and easy to use mobile application that makes finding secondhand stores nearby an easy process.

Something missing? Help other users by submitting stores, photos and information updates through the app!
---
Features
Find Stores Nearby
We can use your location to provide you with op shops that are close to our location.
Get Directions
By tapping on the map when viewing an op shop you'll be in your maps application with directions to the op shop
Help us fill in the blanks
Help us keep Oppyfinder up to date by submitting op shop information, reviews and photos. If we have missed a op shop, submit it and we'll add it
Keep track of your favourites
Have a list of favourite op shops? When viewing a op shop, press on the heart and it will appear in your favourites list
Charity Bins (Coming Soon)
Have a bunch of old items you wish to donate? Oppyfinder can provide you locations to charity bins near you!